Yume Y10 Review: Why Is it the Best Seller on Yumeway?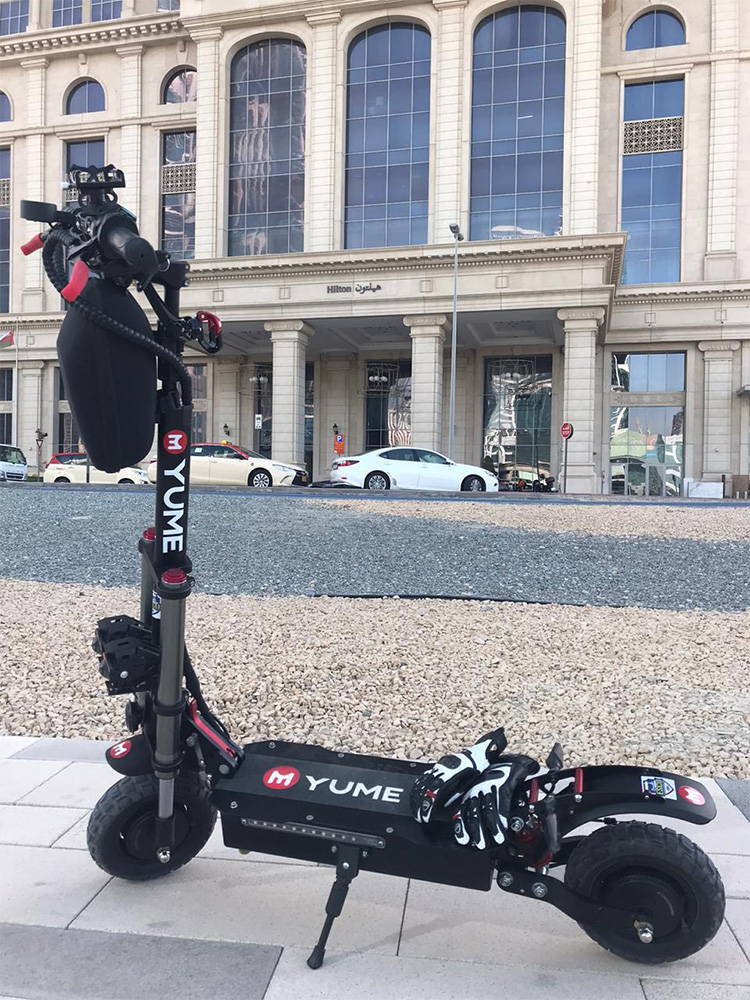 Yume Y10 is one of the electric scooters with the most 5-star reviews on the official website and Aliexpress, and for a good reason as you will see in this Yume Y10 review.
To start with, the Yume Y10 scooter comes in dual motors and at a reasonable price. I love talking about it as the best electric scooter under $1500. Period. One of the many reasons I love the beauty is that it folds in less than 10 seconds despite its hefty size.
Are you a tall adult looking to ride an electric scooter with a top-of-the-range range without declaring your pockets officially bankrupt? Here you are, and with a coupon code tailored explicitly for it.
Related: Yume Electric Scooters Review
Yume Y10 Coupon Code on Yumeway: AMOS-Y10
Yume Y10 Specs
| | |
| --- | --- |
| Top Speed | 40 miles per hour |
| Top Range | 40 miles |
| Motor | Dual (2400W) |
| Battery | 23.4 Ah, 52V LG |
| Suspension | Dual |
| Weight | 110 lbs |
| Weight Limit | 330 lbs |
| Wheels | Pneumatic 10 inches |
| Lights | Dual front, deck, brake, turn signals |
| Foldability | 5 seconds |
| Water resistance rating | IP54 |
| Brakes | Rear and front hydraulic disc |
| Display | LCD |
| Dimensions | 130by30by50cm |
| Build material | Aluminum alloy |
Our Yume Y10 review
In this modern era, we feel that you don't need a kick scooter to thrive and beat traffic or run errands seamlessly. As easy as powering your e-scooter, pressing the throttle, and going, you can never go wrong with an electric scooter.
While there are far much more advanced options to explore such as Yume Ohvation, Yume X7, or even Yume M11, you will absolutely need to start from somewhere. In this case, let's see if the Y10 is an ideal choice for you. 
1) Who is Yume Y10 Electric Scooter for?
Yume Y10 is a budget electric scooter tailored for those who wish to go for a relatively long-range and speed without having to strain financially.
However, if you are just starting out, there are a couple of options on Yumeway such as Yume S10 and Yume H10. By all means, a top speed of 40 miles per hour (I have severally exceeded it while using the Y10) isn't a beginner-friendly way of starting things out.
Pressing the accelerator if you are not careful can get you taking off probably faster than some airplanes. Basically, you will need to know the P-settings before you commit to this beast but if you feel like throwing this caution to the wind, then it'll be better to read your manual to the letter.
Related: How to ride an e-scooter as a beginner.
2) Motor
The times for riding in a single motor are gradually getting phased out and it'd be worthwhile to move with the trend. The awesome team there at Yumeway didn't think twice about why dual motors matter and with that in mind, the Yume Y10 features dual 2400W motors (1200W each).
One of the benefits of dual motors is that you can seamlessly achieve better torque, speed, and range as compared to a single one. Single motors sometimes strain big time, especially when going uphill, which gradually reduces longevity.
3) Is Yume Y10 worth the price tag?
By all means, Yes. Yume Y10 currently costs $1399 and the price is way lower when you use my coupon code. Think of it…How many electric scooters with dual motors cost below $1500?
How many electric scooters with a 40 miles range and 40 miles per hour cost below $1400? With the Y10, you have an accurate representation of quality over price.
4) Manufacturing
Motors
Yume Y10 electric scooter comes with dual brushless motors. These use Direct Current to run and have a hall sensor. Definitely fantastic for those looking for durability, motor strength, and safety to a greater extent.
Suspension
The Y10 comes with dual suspension. Do you pass through bumpy terrains and would like to save your bums from the jumping up and forth shenanigans? The dual suspension will keep you appreciating your ride.
The front suspension is double hydraulic while the rear comes in the spring type.
The inclusion of a damper would have gone a long way towards increasing the comfort, though.
Safety features
How much do you fancy night rides? The Y10 has bright lights to keep you going without feeling unsafe or terrified. With two bright headlights, brake lights, side turn lights, and somehow deck lights, most serious road users or pedestrians will perhaps see you.
In any case, you also have an audible horn that you can hoot whenever the need arises. Riding couldn't be easier.
Any need for sudden braking? Hydraulic brakes guarantee just that for you without breaking a sweat.
Lastly about safety, you know that you have a dual suspension but how can it work to the advantage of your safety? Well, easy.
Suspensions bring about stability while riding. Even if you pass through a pothole or bumpy terrain, then chances are high that you will remain as you were when the suspension is in good shape.
Fancy features
While riding, I love checking the gear engaged, battery levels, time, and the speed I am at. With Yume Y10 scooter, then it has your back as their LCD display offers all these by default.
There are USB interfaces as well on the cockpit to make phone charging or whatever else you need to do with a USB device seamless.
It also has a speedometer that shows your engaged speed mode (it has 3 different speed modes). The power modes are two, and you could choose to use the dual-motor control to select the riding mode you wish to.
The frame
Have you come in contact with slight rains? The Y10's frame comes coated with water-based protective coatings and an IP rating of IP54 to enhance water resistance.
Foldability
Conveniently carry your Yume Y10 electric scooter and place it on the trunk or walk up with it on the stairs. The folding and unfolding is easy and typically doesn't require any technical expertise.
When unfolded, the Y10 measures up to 51 inches in height (from the wheel to the LCD display) and 47 inches between the wheels. In the case of a folded Y10, the length between the handlebars and the front wheel is 48 inches, and the width is 18 inches.
The Deck
Yume Y10 scooter comes in a relatively wide deck that measures 9 inches wide and 21 inches in length. It's anti-slippery and so, the ride has the least to worry about.
Wheels
Yume Y10 comes in 10 inches pneumatic tires meant for offroading as well as street riding. These are able to absorb rough terrains and pass well in grassy terrains without much to worry about. However, the benefits of bigger tires such as those in Yume X7 and Yume Ohvation cannot be overemphasized.
Yume Y10 weight
The Yume Y10 scooter weighs 110 lbs (35.5 lbs) without a seat. When one adds a seat, the weight jumps to 112 lbs. This explains why the Y10 can support 330 lbs of weight without many stem wobbles.
Stem
Is your weight your weakness? Yume Y10 serves from taller adults to the pygmies. The stem is properly adjustable when need be.
Charging
The Y10 comes with dual charging ports. This means the charging time is greatly reduced when you plug in the two chargers as compared to say a single charger.
5) Merits and Demerits
Pros
Value for each buck spent
Dual motors
Hybrid off road tires
Great riding experience, especially offroad
Cons
Stem movement sometimes
The scooter doesn't have a unique manufacturing design.
Yume Y10 coupon code on Yumeway: AMOS-Y10
What are some of the Yume Y10 alternatives?
1) Emove Cruiser
| | |
| --- | --- |
| Top Speed | 25 miles per hour |
| Top Range | 62 miles |
| Motor | 1600W |
| Weight | 52 lbs |
| Weight Limit | 352 lbs |
| Wheels | 10 inches street tires |
| Water resistance | IPX6 |
| Where to buy | Voro Motors |
| Starting Price | $1399 |
| Emove Cruiser Coupon Code | ES-ARENA (7 % off) |
2) Kaabo Mantis Pro Se
| | |
| --- | --- |
| Top Speed | 45+ miles per hour |
| Top Range | 45 miles |
| Motor | Dual 2000W |
| Weight | 65 lbs |
| Weight Limit | 330 lbs |
| Wheels | 10 inches street tires |
| Water resistance | IPX6 |
| Where to buy | Voro Motors |
| Starting Price | $1699 |
| Hill climbing ability | 30° |
3) Emove RoadRunner
| | |
| --- | --- |
| Top Speed | 35 miles per hour |
| Top Range | 50 miles (100 miles with a swapped battery) |
| Motor | 850W; front 350W, rear 500W |
| Weight | 55 lbs |
| Weight Limit | 330 lbs |
| Wheels | 14 inches |
| Water resistance | IPX6 |
| Where to buy | Voro Motors |
| Starting Price | $1499 |
| Seated? | Yes, has a seat. |
Some Extra Accessories for Yume Y10
A seat
If you feel like riding an electric scooter while standing is a tall order for you, you can order an electric scooter seat tailored explicitly for your Y10. Made of leather and aluminum, this is compact stuff that will offer you great service without you worrying about stability.
Whenever you are not using the seat, it folds down and this explains why it can stay in great shape all through.
Tires and Inner tubes
Since the Yume Y10 scooter offers longevity, you are bound to buy the relevant tires and inner tubes.
Thankfully, Yume also sells these on their website with a click of a mouse. The tire is made of honeycomb material such that it will automatically seal itself in the case of a puncture.
Elbow and knee pads
For your safety, knee pads and elbow pads are undoubtedly inevitable. Yumeway has these at your disposal and you can purchase them seamlessly on their online store.
You will also require riding gear such as helmets and it is worth it to note wearing a helmet does more than just saving your head from a crash or any other electric scooter accident.