YUME Brand Electric Scooters Review: Explore Their More Than 10 Incredible Electric Scooters
In this YUME brand electric scooters review, you will find each of their electric scooters as of the time of writing the post. To the greatest extent, we are looking forward to having you make an informed decision from a single article.
The History
The YUME team developed their first-ever electric scooter in 2018. This happened after their team leader and CEO (Richard) had problems with his low-watt electric scooter in 2017.
They started serving the Chinese market before they started serving the International market in 2019.
Today, their array of electric scooters are getting sold in 65 countries and over 200 cities.
In fact, a simple search on the search engines will bring one or more of the most powerful scooters in the world.
The Most Famous YUME Electric Scooters
Best YUME Electric Scooter Overall – YUME X13 – This YUME Electric Scooter is able to crush even the roughest terrain, thanks to its killer dual motor power. One of the most powerful, sturdiest, and fastest currently.
Best Value YUME Electric Scooter – YUME X7 E-scooter – It doesn't differ so much from YUME X13 and offers almost similar specs with it. Ideal for those interested to keep their neighbors guessing who just passed.
Best Budget Yume scooter – YUME H10 Electric Scooter – Retailing from only $499, this is one of the most affordable 300W electric scooters you will/can ever find.
Comparison Table for YUME Scooters
Please note that the prices mentioned in this YUME scooter review are correct as of the time of writing this. Notably, there could be variations.
ELECTRIC SCOOTER NAME
STARTING PRICE ON OFFICIAL WEBSITE ($)
TOP SPEED
TOP RANGE
Maximum Power Output
Yume M11
$2099
58mph
93km/h
78 miles
126 km

7000W
Yume X7
$2599
55mph
89km/h
90miles
145km
8000W
Yume M11 Pro
$2099
50mph
80.5km/h
84miles
135km
6000W
Yume Y11 Plus
$1899
50mph
80.5km/h
56miles
90 miles
5600W
Yume Y11
$1699
50mph
80.5km/h
50 miles
80.5km
6000W
Yume X11
$1799
50mph
80.5km/h
60miles
97km
5000W
Yume D5
$1349
40mph
63.4km/h
40miles
64.3km
2400W
Yume Y10
$1319
40 mph
64.3km
40 miles
64.3km/h
2400W
Yume Ohvation
$3399
63 mph
101.4 km/h
75 miles
120km
8000W
Yume S10
$799
35mph
56km/h
30miles
48km
1000W
Yume H10
$469
18mph
29km/h
15 miles
24km
300W
Yume D4+
$1219
40mph
64.3km/h
40miles
64.3km
2000W
The YUME Ohvation electric scooter is perhaps the best beast if you are looking for range, class, speed, and everything else you may think of. Full stop!
YUME Ohvation Key Features and Specs
Top Range: 75 miles (120km)
Top Speed: 63 miles per hour (101.4 km/h)
Motor: Dual – 4000W X 2
Weight: 64kg
Weight Limit: 330lbs
Wheel Size: 13 inches
Braking: Hydraulic (front and rear).
Full YUME Ohvation Review
Is the YUME Ohvation electric scooter for me?
This YUME escooter is tailored explicitly for e-scooter riders who desire to spend the high dollar and achieve one of the best speeds and range in the world.
Construction
The Ohvation is made to last and conquer the toughest terrains and hills. Thanks to its 13 inches tires and aluminum frame, this beast has a IP54 water resistance for the entire body.
It has dual suspension on the front and rear and loads of lights. That is horn light, brake, headlight, front and rear turn, front headlights, and acrylic board lights.
Battery
This YUME scooter has 38.4AH, 72V LG Li-ion battery and you can guess why it's so easy to hit 75 miles in a single charge.
The battery charges in 12 hours when you use a single charge and within 6 hours in the case of using the provided two chargers.
Motors
The Ohvation has a wattage of 8000W, where it features dual scooter motors of 4000W each. Besides, these motors have a hall sensor.
UPDATE: The YUME Ohvation was upgraded to be YUME X13. You can check our entire post talking about this model in this article.
The YUME M11 electric scooter is one of the fanciest and with pretty decent features. Premium-priced from $2099 as of the time of writing this, this beast comes in two varieties (60V and 72V).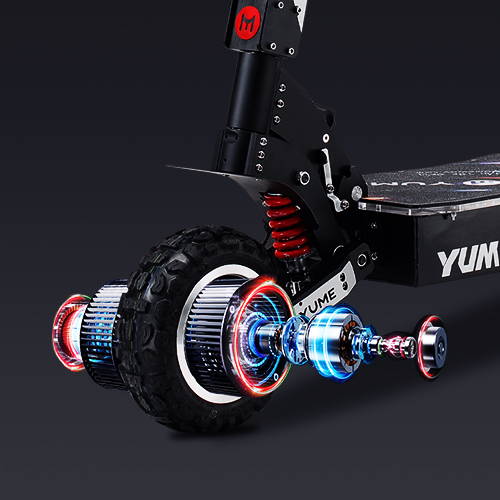 YUME M11 Key Features and Specs
Top Range: 78 miles (126 km)
Top Speed: 58 miles per hour (93 km/h)
Motor: Dual – 3500W X 2 (72V); 3000W X 2 (60V)
Weight: 110 lbs
Weight Limit: 330lbs
Wheel Size: 11 inches
Braking: Hydraulic.
The YUME M11 scooter is indeed a beauty to behold. If comfort and safety move you, then this beauty is the epitome of those two features. You can read the full YUME M11 electric scooter review here.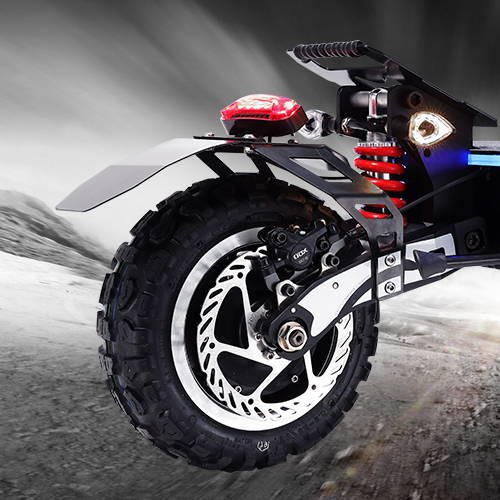 YUME M11 Coupon Code: AMOS -M11
Where Can I buy YUME M11?
YUME X7 Key Features and Specs in a Nutshell
Top Range: 90 miles (145km)
Top Speed: 55 miles per hour (89 km/h)
Motor: Dual – 4000W X 2
Weight: 120 lbs
Weight Limit: 330 lbs
Wheel Size: 13 inches
Braking: Hydraulic and Electronic Blackout.
Full X7 Electric Scooter Review
Read the detailed YUME X7 review here.
This YUME X7 review is worth it if you note that this is the best beast for those looking forward to riding in the longest range ever.
With a hill-climbing ability of 60 degrees, you don't have to worry about those disturbing rough terrains in any way.
Tires
The X7 electric scooter is one of the best electric scooters in its class and comes with all sorts of enticing features; gigantic 13-inch diameter tires that make it a breeze to ride on any type of terrain.
The 5-inch wide tires are tubeless pneumatic, making them puncture-resistant on the road or while offroading.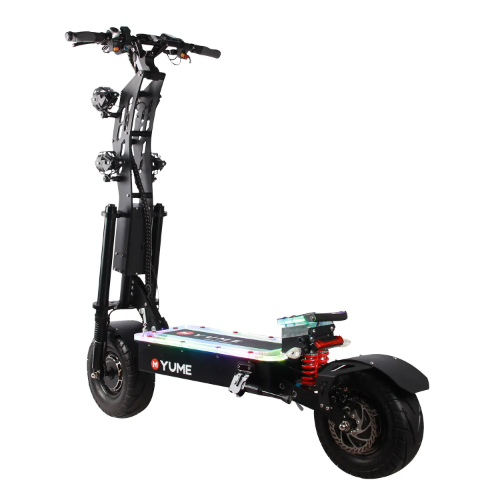 Display
The X7 has got a larger, clearer screen than your regular scooters, which displays gear level, speed rate and battery life at all times. This device also has an optional color LED display that puts other electronic screens to shame! The 3-speed adjustment gives you complete control over its power output as well as 2 modes for more flexibility in ride conditions.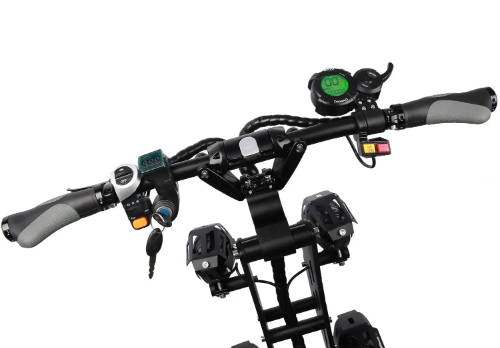 Battery
With an enormous battery powering giant motors, this high-performance vehicle makes your commute as easy as riding off into the sunset.
The X7 electric scooter is the ultralight electric scooter that you never want to put down! People with a lot of places they need to be, this gadget will make getting from place A-B quick and easy while saving on gas money.
With its Panasonic battery ensuring 50Ah of power (90 miles total) in one charge and boasting other safety features such as overcurrent protection, short circuit prevention, temperature abnormalities which can damage your equipment by either freezing or overheating it so choose wisely when choosing outside temperatures for rides!
Undervoltage sleep mode if charging stops unexpectedly due to power outage/losses etc., this means no more dead batteries after 10-mile trips without accessible outlets thanks again dual charging capability meaning you don't have to carry extra cables if you want to charge at home or the office.
This scooter has a dual charging system, so you can charge both batteries at the same time. With an X7 electric scooter by your side, there's no need to worry about running out of battery power halfway through your workday or just before that important meeting!
The X7 electric scooter is able to support fast 5A charging thanks to its great 60V/72V lithium-ion battery. This means you will never have any problems with low levels again because now if one goes dead, then another automatically kicks in without issue and charges it up for when you need it most!
YUME X7 review: Suspension
The X7 electric scooter will deliver the smoothest ride possible with its dual front motorcycle-grade shock-absorbing suspension paired with a rear spring; both of which are made to protect your spine and joints.
The scooter's lightweight, due in part to its smart frame design and advanced materials, ensure that it can be easily maneuvered at any time on moderately hilly terrain without feeling tiring or uncomfortable for riders who might only weigh 120 pounds themselves.
Lights
And if you don't want people around you to know what's happening behind your back (or front), they'll be stunned by dazzling lights which put them under complete control at night!
The YUME X7 scooter headlights are bright enough to light up the way. As if it couldn't get any better- they're perfect for night riding!
YUME X7 offers a sleek, remote-controlled light strip that is sure to catch anyone's attention. The 7 basic colors are yellow, blue, green, white, green, purple and red with the ability to mix colors for more creativity. When riding at night, you'll love how easy it is not only for safety but also as an eye-catching device on your e-scooter!
Motor and Controller
The YUME X7 electric scooter is one of the fastest and most powerful in its category. With a customized 8000W dual brushless motor, 13-inch highway tires for high-speed driving performance, 90Ah high power controller and charging of up to 55 MPH while climbing slopes 35 degrees or higher at 60-degree angles. The YUME X7 8000W features unmatched versatility as it's capable of going from street use all the way down to rough terrain with ease!
The YUME X7 scooter has been carefully designed specifically tailored for commuting needs on both city streets and rural backroads alike. It's fitted with an 8000W Dual Brushless Motor, which provides unparalleled responsiveness when accelerating quickly away from corners; combined with either slotted (street) or knobby (off-road) tires, you'll always be able to keep up with traffic when going from street use all the way down.
Braking
With the X7, a rider can stop on a dime. The large-diameter front and rear hydraulic brakes provide for more sensitive braking power that traditional disc brake systems don't have. With an electronic ABS system installed as well, this scooter is equipped with accurate safety features at high speeds to keep riders out of harm's way when necessary.
Other impressive Specs
The YUME X7 8000W is the perfect scooter for wet conditions. It has an IP54 water-resistant rating which means it can handle light rain, yet be careful riding in those same conditions because none of the dealers or manufacturers cover for water damage!
One of the features that make this scooter stand out from its competition is how ergonomic it feels to hold. Well-designed handles offer steady and comfy grips, which makes riding more comfortable for everyone!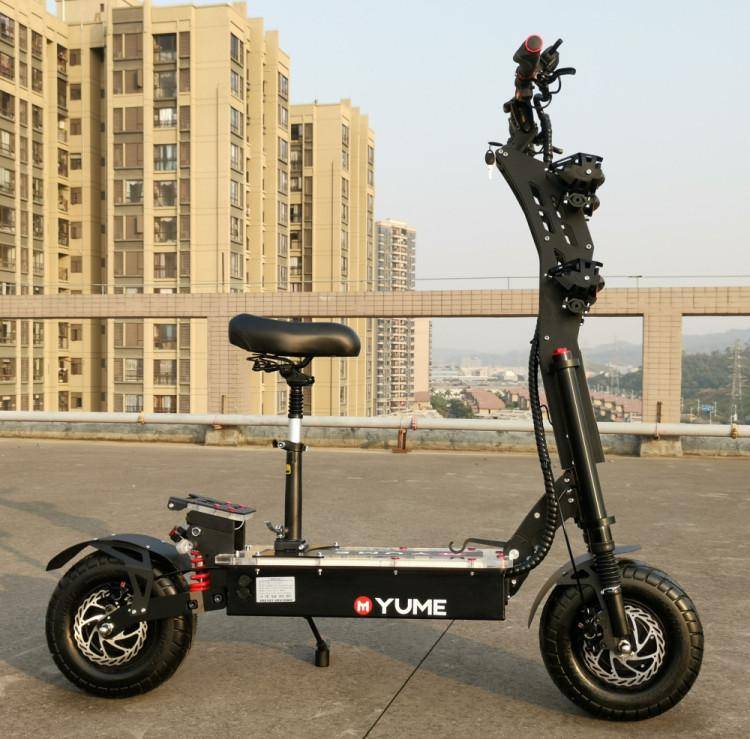 The YUME X7 is one of the latest and greatest in electric scooters. It uses an aviation-grade aluminum alloy to build a strong yet lightweight frame, which means it has one less thing for you to worry about when traveling or commuting with this efficient form of transportation. The wear-resistant material ensures that your investment will last nearly forever!
The artistic design of the acrylic pedals on this e-scooter provides a more stable ride than most other models. As you run through the different errands in this beast, ensure that you are in the right attire to avoid electric scooter accidents.
What is the YUME X7 price?
YUME X7 scooter has a starting price of $2599 and $2799 is the highest price.
Contents in the YUME X7 Electric Scooter Box
Your electric scooter
A motor key
A user manual
Tool kits
2 pieces of chargers
A seat (detachable)
A branded bag (YUME).
Pros of the YUME X7
Super suspension
Good range
A generally safe e-scooter
Sturdy enough.
Cons
YUME X7 Coupon Code: AMOS-X7
Where Can I buy YUME X7?
Key Features and Specs in a Nutshell
Top Range: 84 miles (135km)
Top Speed: 50 miles per hour (80.5 km/h)
Motor: Dual – 3000W X 2
Weight: 124 lbs
Weight Limit: 330 lbs
Wheel Size: 11 inches
Braking: Hydraulic.
Full YUME M11 Pro Electric Scooter Review
The YUME M11 Pro electric scooter is the best alternative to the above two electric scooters.
YUME M11 Pro review: Suspension
The YUME M11 Pro is the kind of scooter that would make any good-hearted person jealous. With its dual suspensions and rear shock absorber, it effortlessly glides over all kinds of roads so you can enjoy your commute in comfort – no matter how steep a hill maybe.
The perfect e-scooter for those who want to glide across busy streets or take on tough hills with ease!
M11 Pro scooter is like a magic carpet. The super spring suspension makes it as smooth and comfortable as you can imagine, so much that riding on the M11 Pro feels better than walking!
Tires
You'll be able to ride with ease over all kinds of road surfaces and tackle the steepest hills without any hesitation thanks to these anti-slip wheels, which have 11″ off-road tires that are sturdy enough for diverse conditions. These also help slow you down when needed so your scooter can get where it needs to go in one piece!
Battery
The M11 Pro not only gets up to 84 miles per charge, but it also has the most eco-friendly battery on the market. This Yume electric scooter is perfect for anyone who wants a high capacity with an environmental conscience!
With a high-capacity 60V 50Ah lithium battery, the M11 Pro easily reaches up to 84 miles within its max range. The eco-friendly build reduces pollution and the slow discharge rate ensures that it lasts for even longer periods of time. A full charge is achieved in 8 hours or less!
Motor
The M11 Pro Yume escooter has a lot to offer in terms of features. It is equipped with dual-motor, hydraulic brakes that work just as well on dirt paths and sidewalks alike.
The 2 x 3000W power boosts the speed up to a max of 50mph which makes it perfect for short commutes or when you're going off-road!
Braking Experience
The YUME M11 Pro comes with a rear hydraulic and standard front brakes system. The brake levers are very easy to reach, even while riding the bike, because they're placed where your hands naturally rest when gripping onto handlebars.
The YUME M11 Pro Scooter's braking systems make it so you can stop on a dime without worrying about whether or not you'll be able to bump into someone in time!
Fancy features
When it comes to the YUME M11 Pro scooter, you can have your cake and eat it too. With three different speed modes, dual motor control features, and two power modes for every terrain situation, this is a versatile ride that will take care of all your riding needs while not breaking the bank either.
Additional Specs
No more sore muscles. M11 Pro e-scooter comes with a super spring suspension that reduces bumpiness when riding and improves the rider's comfort.
It also has an LCD smart screen, which displays your speed level, time, gear selection, and battery life so you can stay informed of how much power is left to ride longer distances without having to stop for too long every few minutes or have emergency backup batteries ready at all times.
The multifunctional driving system shows riders how easy it is to change their acceleration levels according to local traffic requirements as well! You get to pick the one best suited for you. Maintaining this e-scooter is one of the simplest ways as there is a tested way to maintain each and every electric scooter.
Pros
The YUME M11 Pro is a budget electric scooter for its specs
A fantastic range
Perfect for off-roading.
Cons
The wheel size could be bigger.
YUME M11 PRO review Coupon Code: AMOS-M11PRO
Where Can I buy YUME M11 Pro?
Key Features and Specs in a Nutshell
Top Range: 56miles (90km)
Top Speed: 50 miles per hour (80.5 km/h)
Motor: Dual – 2800W X 2
Weight: 110 lbs
Weight Limit: 330 lbs
Wheel Size: 11 inches
Braking: Magnetic and physical rear.
Full YUME Y11 Plus Electric Scooter Review
The YUME Y11 Plus is an electric scooter of its kind to be 100% powered by electricity. This means that it produces zero-emission, and you can feel good about yourself when riding this eco-friendly marvel! The best part: You'll have a blast maneuvering through traffic on your way to work or school in style as if you were driving an expensive sports car instead of peddling at a snail's pace next to all those cars stuck in gridlock.
Motor
The YUME Y11 Plus e-scooter is able to reach speeds of up to 50 mph with its powerful 2*2800W high-speed DC brushless dual motors.
Battery
YUME Y11 electric scooter is reliable and safe for use because it has a 60V 30AH lithium battery with the longest range of 56miles. The cruise control function reduces fatigue by maintaining a smooth, stable speed that optimizes your energy efficiency while saving you money on gasoline or gas!
Braking
The YUME Y11 Plus scooter's double braking system ensures a safe ride and is made up of both front-wheel magnetic and rear-wheel brakes.
The safety features on the new, high-quality scooters are second to none with an efficient double braking system that includes both front-wheel magnetic as well as back wheel mechanical brake for ultimate control over speed during your commute or leisurely cruise around town!
Shock absorption
With a built-in front shock absorber and rear spring shock absorber, this sleek design makes it easier than ever to glide across any terrain with less bumps in your ride!
The new YUME PLUS will be giving you more comfortability on dirt roads thanks to its dual shocks that absorb all of those pesky bumps along your journey.
The Y11+ electric scooter's Anti-Lock braking system ensures that the rider is always safe when they brake.
This safety feature protects riders from accidents like rear-end collisions and even head-on car crashes because their brakes are never locked, which means it takes less time to stop in an emergency situation.
Portability
The Y11 Plus Electric Scooter is a scoot with the lightweight and convenience of a folding e-scooter. A simple push on its handlebar will fold it in 3 seconds: enough to easily put away when not in use, or at home for travel!
The build quality means that you can also carry this around public transportation without worry, store it inside your car – anywhere you need it!
Lighting
The YUME Y11 Plus electric scooter's control knob comes with a selectable flashing LED light system for night driving. The lights can be set to flash, stay on continuously or turn off and are controlled by two front and two rear units that provide powerful focus in each area so you avoid any accidents when night riding your new vehicle.
Pros of the YUME Y11 Plus Electric Scooter
Large rear and front fenders
Fast foldability
Efficient multi-display.
Cons
The plug chargers would have been two to charge the dual ports.
YUME Y11 Plus Coupon Code: AMOS-Y11PLUS
Where Can I buy YUME Y11 Plus?
Key Features and Specs in a Nutshell
Top Range: 50miles (80.5km)
Top Speed: 50 miles per hour (80.5 km/h)
Motor: Dual – 3000W X 2
Weight: 114 lbs
Weight Limit: 330 lbs
Wheel Size: 11 inches
Braking: Rear and front hydraulic.
Full YUME Y11 Electric Scooter Review
You can read the most detailed YUME Y11 scooter review here.
The YUME Y11 Plus above is the ultimate improvement of the YUME Y11. However, nothing much seems to have changed as Yumeway were manufacturing this beauty.
Motor
The YUME Y11 electric scooter is a high-performance vehicle that offers unbeatable acceleration and top speed. With its 2 x 3000W motor, the 60V 6000W dual motors propel it to up to 50 MPH in a couple of moments!
Tires
The YUME Y11 electric scooter's durable 11-inch off-road tires can withstand most types of pavements and road conditions, giving riders a safe experience. These anti-slip treads ensure that the rider stays in control no matter what surface they're on!
Shock absorption
The YUME Y11 is a more comfortable, safe ride made possible by the double-spring front and rear shock absorbers. These are designed to make riding easier on any terrain while also providing maximum protection for your backside with cushioned seats that will never let you down!
Foldability
Y11 scooter is a lightweight, compact electric vehicle that can be folded and unfolded in seconds. It's perfect for those of us who live in crowded cities with limited parking spaces or just want to get from Point A to Point B as fast as possible!
Pros of the YUME Y11 Electric Scooter
Easily foldable
Good suspension
Good motor power
Fast for its price.
Cons
Doesn't charge as fast despite having dual charging ports.
YUME Y11 Coupon Code: AMOS-Y11
Where Can I buy YUME Y11?
Key Features and Specs in a Nutshell
Top Range: 60miles (97km)
Top Speed: 50 miles per hour (80.5 km/h)
Motor: Dual – 2500W X 2
Weight: 105 lbs
Weight Limit: 330 lbs
Wheel Size: 11 inches
Braking: Rear and front hydraulic.
Full YUME X11 Electric Scooter Review
Check the detailed YUME X11 review here.
YUME X11 review: Stability
The YUME X11 is made of a durable, lightweight aluminum/ferroalloy frame for stability.
The YUME X11 scooter has an aircraft-grade aluminum chassis that helps to ensure you have the balance and stability needed in all conditions. Have no worry about tipping over as you ride this beast.
Motor
The YUME X11 features a 5000W high-speed brushless DC rear motor, giving it the power to reach speeds of up to 50mph.
The scooter's powerful 5000W high-speed brushless DC rear motor is capable of reaching speeds upward of 50 mph, and this makes for an exciting ride!
Battery
You'll never have to worry about being stranded with a dead battery again! The YUME X11 electric scooter is by far the most reliable and trustworthy when it comes to providing you with maximum range. It features an incredible 60V 35Ah lithium battery, which will give you up to 60 miles of riding time before needing another charge.
Shock absorption
The YUME X11 has a front shock absorber that is designed to be more comfortable and safer for the rider. The design features two springs in the rear area of this bike, made specifically so you can pedal with ease even over bumpy terrain.
The much-loved electric scooter company; YUME, believes riders should feel safe when they are on their gadgets – which is why they feature C shaped frontal shocks as well as double spring systems at the back end of it all. By doing so, there's no way your ride will ever make you uncomfortable or unsafe because these specific structures work together efficiently to keep things smooth like butter!
Tires
The YUME X11 is a perfect choice for the rider who wants to cruise down sidewalks, over gravel and dirt roads or even through streams. The 11-inch off-road tires are great on tough terrain while still having excellent shock absorption due to their big wheel design.
Foldability of YUME X11
The YUME X11 e-scooter has a quick folding mechanism that allows it to be folded and unfolded in seconds. When not riding, you can fold the scooter up and put it into your trunk without too much hassle; however, when on rides, this machine is sturdy enough for different terrains such as gravel or dirt roads!
The new model of the YUME X11 electric scooters are equipped with an ingenious design that makes them easy to transport. The sleek frame folds down quickly so they will fit nicely in any car's hatchback compartment while also being compact enough for home storage space like closets or garages. This innovative feature lets riders take their favorite ride wherever they go: whether around town during work hours or having fun with friends on the weekend.
Safety
The YUME X11 features a double braking system that quickly comes to a complete stop in case of emergencies or sudden stops. It has a spacious rear end so you can move your feet around a bit when stopping and also features plastic hand grips that are very comfortable to hold on to when you are riding.
Pros
Different lights
Commendable range for the price
Available in a plethora of colors (blue, red, gold, and black)
Dual chargers provided.
Cons
Not as fancy as the M-series of Yume scooters.
YUME X11 review Coupon Code: AMOS-X11
Where Can I buy YUME X11?
Key Features and Specs in a Nutshell
Top Range: 40miles (64.3km)
Top Speed: 40 miles per hour (64.3 km/h)
Motor: Dual – 1200W X 2
Weight: 75 lbs
Weight Limit: 330 lbs
Wheel Size: 10 inches
Braking: Disc/oil.
Full YUME D5 Electric Scooter Review
Read our full YUME D5 review here.
Motor
The YUME D5 electric scooter is a dual motorized scooter for heavy adults that can reach speeds up to 40 mph with an impressive range of up to 40 miles.
What's the best way to get around town? The fastest and most environmentally friendly option available today would be an e-scooter, specifically one like the YUME D5!
This beauty has two powerful motors capable of reaching speeds as high as 63.4 km/h (40 mph) on flat surfaces while maintaining good energy efficiency levels throughout its entire battery life span – plus it offers you all-day coverage for each charge!
YUME D5 review: Battery
The YUME D5 electric scooter has a lithium-ion battery that provides you with the speed and power to get from place to place. The 23.4Ah 52V battery will give you more time on each charge so you are never left stranded without juice for long!
The YUME D5 is an electrically powered, two-wheeled vehicle designed for transport in cities or campus environments where parking can be difficult. It features a high-quality lithium-ion battery capable of providing hours' worth of ride time between charges – ensuring riders are able to enjoy this nifty mode of transportation at its full potential.
Braking
The YUME D5 electric scooter has disk/oil brakes for safety purposes, which is an awesome feature that could save your life.
These types of brakes are usually found on dirt bicycles and motorcycles because they provide a faster stopping distance than other models. Additionally, this model includes two-speed settings so you can adjust the amount of power needed to get up hills or go from one area to another quickly without needing any assistance from anyone else!
Charging time
Owners of the YUME D5 electric scooter can charge their vehicle for 4-5 hours after a long day on power. This is enough time to get you home from work or back up in running if your battery dies mid-journey!
Shock absorption
The YUME D5 electric scooter has 4PCS Front Spring Shock Absorbers, which is the most common type of shock absorber. They are specifically designed to control and dampen vibrations from cars by absorbing these shocks when they hit bumps on the road or railroad tracks. The 1PC Rear Super Spring Shock Absorbers provide a really smooth ride for those who want more comfort in their vehicle's suspension system.
Fancy features
The YUME D5 is an eco-friendly electric scooter that takes care of not just the outside but also keeps you on track with your battery power and time. With a multifunctional dashboard, it displays all three things: gear, speed (with USB function), and how much battery life remains so there are never any surprises when charging up for another trip out into nature or to work!
The YUME D5 scooter is an adventurer's best friend. It offers all the features of a traditional motorcycle, but with more versatility and power than ever before! With Turbo High-Speed mode that can reach speeds up to 40 mph in just seconds, Eco Low Speed for moderate driving at 20 mph or less, system & driving modes like Dual Rear Wheel Drive and Single Rear Wheel Drive so you're always prepared for anything on your next journey – this scooter has it covered.
The handles of the D5 electric scooter are not just adjustable, they're also made out of a comfy rubber. You can adjust them to your desired height and feel yourself glide down the street!
Pros
Affordably priced
Different drive modes
It's a heavy-duty electric scooter for different terrains
Numerous fancy features.
Cons
It would have been lighter
YUME D5 review Coupon Code: AMOS-D5
Where Can I buy YUME D5?
YUME Y10 Key Features and Specs in a Nutshell
Top Range: 40miles (64.3km)
Top Speed: 40 miles per hour (64.3 km/h)
Motor: Dual – 1200W X 2
Weight: 75 lbs
Weight Limit: 330 lbs
Wheel Size: 10 inches
Braking: Rear and front hydraulic.
Full YUME Y10 electric scooter review
You can check our detailed and comprehensive YUME Y10 e-scooter review here.
YUME Y10 review: Motor
The YUME Y10 electric scooter provides the rider with two independent drive motors, each up to 1200W (2400W total). The powerful motor ensures a smooth ride and can reach speeds of over 40 miles per hour.
The sleek design of this e-scooter is sure to catch anyone's eye as it zooms past them on its way down the street at 40mph or more!
Frame design
The YUME Y10 is the best choice for people who want to stand out. The sleek, modern design will always keep you looking fresh and new!
The unique features of this compact bike make it one-of-a-kind in a world full of boring bikes that all look alike. With water-based nano environmental protection coatings shining among others like diamonds between coal, there's no worry about having your ride turn dull due to rain or dirt with its easy maintenance surfaces which also won't rust over time.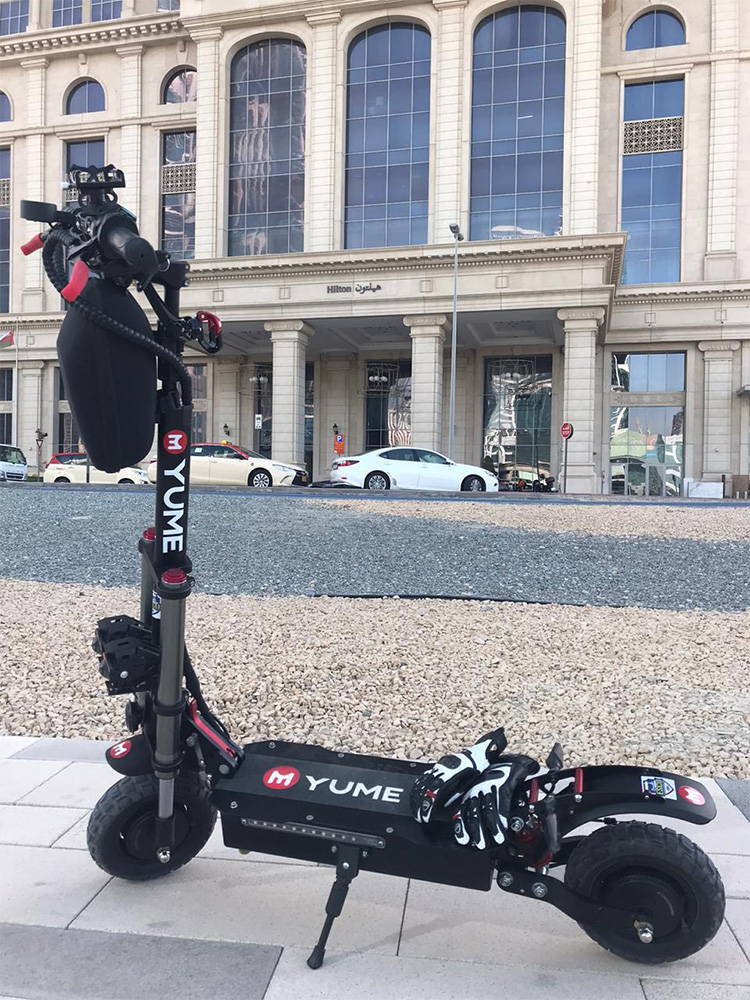 Suspension
As if you weren't limited enough by society's expectations and busy schedules, now we're telling you that your ride has to be safe. The Y10 YUME scooter comes with a double suspension system for more stability on bumpy roads as well as heavier riders.
The new generation of the long-treasured dream machine is here! The efficient design provides safety while avoiding traffic jams or using gas money – perfect for any college student who needs an easy way around campus but still wants their independence from public transportation systems.
Braking experience
YUME Y10 electric scooter is the best in class with a hydraulic brake system. In an emergency, this innovative braking technology provides a more sensitive and faster response to ensure safety at high speeds – both front and rear brakes are equipped.
Fancy features
The YUME Y10 electric scooter is a modern-day marvel! It has an LCD smart screen that displays time, gear, battery status, and speed. There's also a meter with a USB function to charge your mobile device anytime.
Foldability
If you're tired of waiting on the bus and looking for a more environmentally friendly way to get around, then these electric scooters are worth checking out. The YUMEY10 has of size 47 * 46-51 inches, and a folding size of 48 * 18 inches; this means that whether it's folded or unfolded, your space problem will be solved!
Its quick fold mechanism allows it to go from a huge-size vehicle in seconds with how easy storing becomes convenient.
YUME Y10 review Coupon Code: AMOS-Y10
Where Can I buy YUME Y10
Key Features and Specs in a Nutshell
Top Range: 40miles (64.3km)
Top Speed: 40 miles per hour (64.3 km/h)
Motor: Dual – 1000W X 2
Weight: 60 lbs
Weight Limit: 330 lbs
Wheel Size: 10 inches
Braking: Rear and front hydraulic.
Full YUME D4+ Electric Scooter Review
You can read more about our full YUME D4+ review in this post.
Motor
You'll be zipping around town in no time with the YUME D4+ electric scooter, which comes equipped with a dual 2000W motor that can boost your speed up to 40 mph. I recommend this only for experienced riders because it's an intense and crazy ride! You won't have any problems speeding on hills of all types.
Battery
D4+ comes with a high capacity 52V 23.4Ah battery, allowing riders to enjoy 40 miles of range on one charge and have the option between single-motor or dual-motor mode. It also features two charging ports for convenient connection to 2 chargers that halve its recharge time from 4-5 hours only.
YUME D4+ Review: Construction
Everyone needs a reliable mode of transportation, and sometimes it's nice to have something that can handle obstacles better than your average car.
The YUME D4+ electric scooter is the perfect choice for those who are looking for an easy ride! Its strong aluminium frame will be able to take on any challenge you come across-from bumps in the road or offroad terrain.
It has fat 10-inch tires so even if there is rain from one direction but not another (or snow) this little guy won't get stuck too easily as he takes his rider wherever they need to go with ease thanks also due to its front suspension system using 4 springs plus 2 rear springs providing smoother rides over bigger potholes no matter where you're driving your way up.
The YUME D4+ looks like a blast to run around on, and who can say no? It has all the features that you would want in an off-road electric scooter. The LCD display is nice for when you're not sure what time it is, while the voltage anti-theft lock gives peace of mind about your e-scooter being stolen.
But my favourite feature by far was how wide this thing is! Wide decks are always more comfortable than narrow ones because they give your feet some breathing room!
YUME D4+ electric scooter is a sleek and stylish ride with LED front light and LED taillight.
Foldability
The YUME D4+ electric scooter folds up for easy storage. It has an impressive maximum speed of 40 mph and weighs 60 lbs, but it's not practical to carry around all day long because the folding mechanism can be broken if you apply too much pressure on the handle when carrying it by hand.
You should always fold this product down before lifting or bending over with your arms raised towards the sky so as to protect its shape!
YUME D4+ review Coupon Code: AMOS-D4
Where Can I Buy YUME D4+
YUME S10 Key Features and Specs in a Nutshell
Top Range: 30miles (48km)
Top Speed: 35 miles per hour (56 km/h)
Motor: single 1000W
Weight: 60 lbs
Weight Limit: 265 lbs
Wheel Size: 10 inches
Braking: Rear and front disc
Full YUME S10 scooter review
Check our detailed and comprehensive YUME S10 review here.
Motor
The YUME S10 electric scooter is an innovative, convenient way to get around town. With a 48V 21Ah lithium battery and a 1000W high-speed brushless DC rear motor, this electric scooter boasts up to 35 MPH speeds and can travel for as far as thirty miles on one charge!
The newest generation of e-scooters are about convenience more than anything – the most common complaint from people who use them is that they don't have enough time in their day anymore with work, family life, etc., so these bikes make it easier not only because you save money but also you have fewer worries when driving like traffic or parking.
Necessarily, if you are looking for a single 1000W electric scooter, then the YUME S10 has your back as you will keep seeing in this YUME S10 review.
Shock absorption
The S10 YUME escooter is incredibly safe, durable, and comfortable. The shock absorbers adapt to all kinds of terrain while the air pressure front fork ensures a smooth ride for hours on end without getting stiff or sore even if you're riding up steep hills with its strong 1000W motor driving at speeds up to 35 mph!
Tires
The YUME S10 scooter is a one of kind blend between sporty and functional. It features 10-inch off-road tires with a phenomenal shock absorption effect, perfect for rough roads or the occasional jump! The anti-slip treads also make it easy to mount on wall surfaces without any hassle – making you feel like king/queen (or queen) of the road.
Foldability
The S10 e-scooter is great for on-the-go lifestyles and has a patented, quick folding mechanism that makes it easy to store. When folded up into the wheeled suitcase form factor, you can conveniently carry your scooter anywhere with ease!
YUME S10 scooter review Coupon Code: AMOS-S10
Where Can I buy YUME S10?
Key Features and Specs in a Nutshell
Top Range: 15miles (24km)
Top Speed: 18 miles per hour (29 km/h)
Motor: Single 300W
Weight: 35 lbs
Weight Limit: 220 lbs
Wheel Size: 9 inches
Braking: Rear and front hydraulic.
Full YUME H10 Electric Scooter Review
The YUME H10 is best suited for kids and medium-weight adults. The YUME H10 electric scooter is a fast, sleek way to get around town that will keep you smiling all day.
With its powerful single motor and one independent 15MPH 300W motor, it can reach speeds up to 18mph in just seconds! The 36V 7.5Ah battery lasts for miles of travel so if you're looking for the perfect eco-friendly vehicle, then look no further because we have your new mode of transportation right here!
H10 electric scooter has a unique 9-inch vacuum tire that can resist explosions, will not leave you stranded on the road after an impact, and is safe for commuting.
Its strong bearings provide better shock absorption than your traditional rubber tires, and it also offers superior grip to make sure that no matter what type of terrain or surface you are driving over, you still have great control.
The H10 YUME scooter is the perfect mode of transportation in tough conditions. The headlight and taillight are both bright, which means you'll have no trouble finding your way home even when visibility isn't ideal.
YUME's foldable H10 electric scooter is compact, allowing it to be stored in a small space. The quick folding mechanism allows the device to be folded and unfolded in seconds for easy transportation or storage anywhere you go. With this perfect personal transport around your city, YUME has provided an innovative solution for people on the go!
Where Can I buy YUME H10?
Why Buy An Electric Scooter from YUME?
YUME electric scooters make your life easy. You don't have to worry about carrying bulky packages around because they offer free delivery for each purchase!
YUME knows that when you buy a scooter, there will always be some questions. Don't risk it when you can buy a YUME electric scooter for free returns.
You can save up to $100 when you use the respective coupon codes.
Are YUME Scooters Any Good?
Absolutely! As of the time of writing this YUME scooter review, there are currently ONLY positive reviews about YUME scooters online.
Final Thoughts: YUME Brand Electric Scooters Reviews
Hopefully, we have clarified any pieces of information about YUME scooters. Should have any questions, information to add, or even any concern, please let us know in the comment section below, especially if you don't get a solution with our post on the FAQs about electric scooters.