What is the best electric scooter for adults 400 lbs?
There is something that perplexes me…the saying that "big dawgs weighing 400 lbs or more cannot ride electric scooters."
As you are perhaps aware, electric scooters are fun, save fuel costs, are environmentally friendly, require little maintenance…I could go on and on. This means regardless of how one weighs, they absolutely need to enjoy what e-scooters can offer.
For this reason, I will compare and leave you to judge the best electric scooter for heavy adults 400lbs. An important thing to note is that these also come with flaws and I will highlight what you desperately need to know. 
Also Read: 300 Lb Capacity Electric Scooters
1) Wolf King: The top 400 lb capacity scooter overall
With a weight limit of 400 lbs, the Wolf King from Voro Motors is right up your alley. One of the many reasons we love the king is that it has a solid build, high peak power output, and is fast. Who said Big Dawgs don't deserve some fly, anyway?
Wolf King Specs
| | |
| --- | --- |
| Weight Limit | 400 lbs |
| Top Speed | 60 mph |
| Acceleration | 0 to 50 mph in 4.8 sec |
| Top Range | 50 miles per charge |
| Motor Output | 6720 W |
| Foldability | Foldable |
| Charging ports | 2 |
| Charging time | 5 hours |
| Battery | 72V 28AH LG/ Samsung |
| Weight | 105 lbs |
| Water resistance | IPX4 rating |
| Starting Price | $2999 |
Why Wolf King?
There is an array of ratings as to why you may opt to buy the king and not any other electric scooter that can hold 400 lbs.
Kaabo Wolf King is the ultimate upgrade from Kaabo Wolf Warrior 11 that has dual 1200W motors, a 60V battery, and a top speed of up to 50 miles per hour.
You undoubtedly need not be a beginner rider as the King just gets up and goes regardless of the terrain it's subjected to.
When it comes to the value for money, Wolf King undeniably provides bang for each buck. When you look at its top competitors such as the Dualtron Storm and the Zero 11X, then you will notice that these two cost $1000+ more than the king.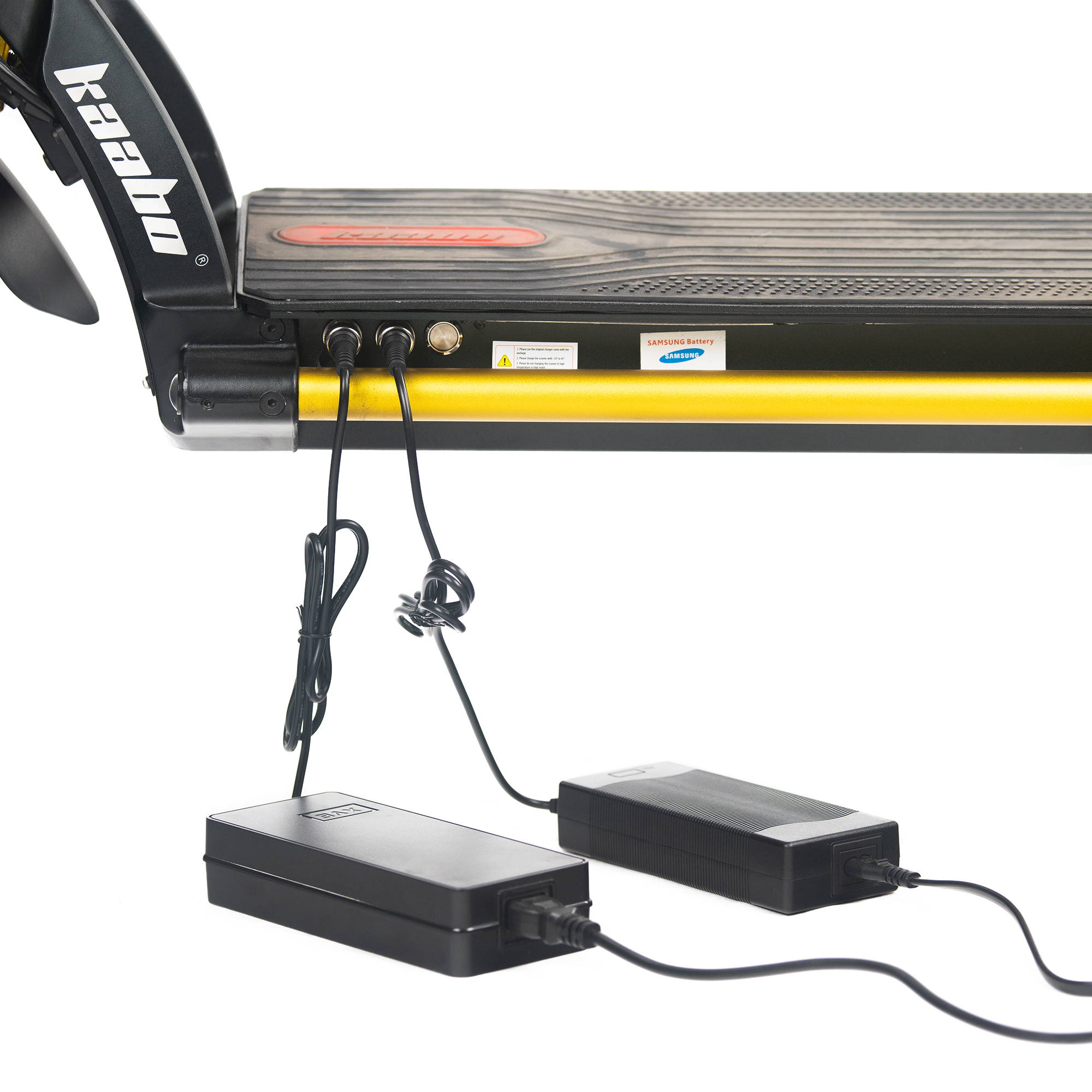 I am looking at you here, LOL! Well, for your weight, you desperately need a sturdy manufacturing design that won't leave you with broken jaws and anything else imaginable, right?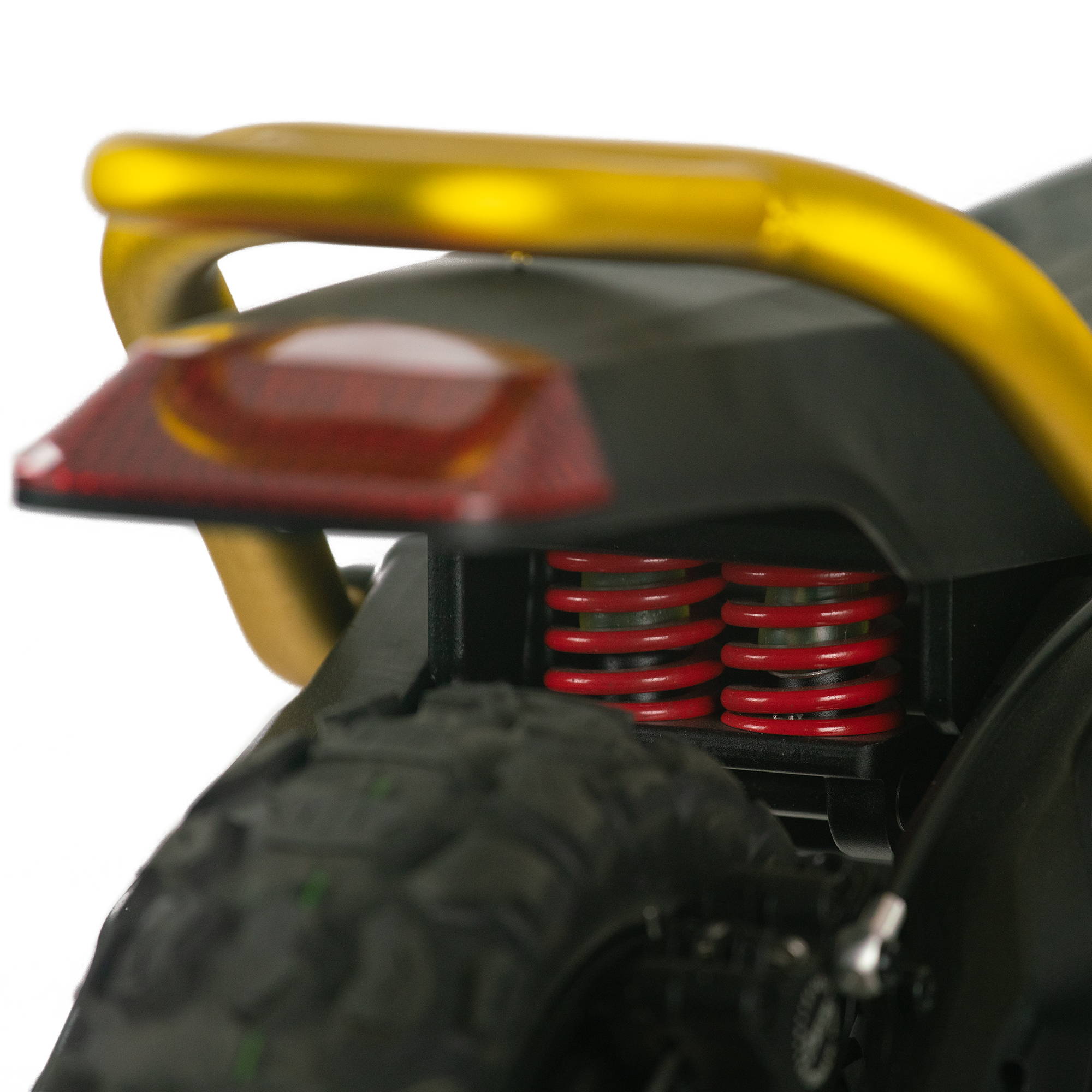 Well, Wolf King electric scooter that holds 400 lbs is manufactured using wide handlebars (24.6" breadth) and as you perhaps know, the handlebars play a vital role towards how safe a rider is as they scoot.
About the frame, it is designed not only to impress but also to make a statement about stability. Made of a 6082 alloy frame (aluminum), there is little to worry about sturdiness as a rider.
How is your riding style? We won't be wrong to let you know that the deck offers more than just a stepping platform. It's so massive that it measures 9" in width and 20" in length. There is little to no worry about the Kaabo Wolf King electric scooter that can hold 400 lbs as the deck comes with grippy matting to ensure comfort and safety.
Wondering about the Wolf King Tires? The Wolf King 400 lb capacity electric scooter comes in 11" street tires (tubeless) but the rider can upgrade to the off-roading tires.
What are the reasons to avoid the Kaabo Wolf King?
An important point that Voro Motors needs to address is the safety pin's chain. There have been several complaints that it doesn't feel like a quality one and I can attest as of the time of writing this.
While the safety pin isn't a compulsory component to include while riding, it is a crucial one.
Another thing is that the Kaabo Wolf King scooter for 400 pound person is really heavy. With a 46kg weight, those looking forward to moving downwards from staircases cannot do so easily.
2) Wolf Warrior 11+: The best electric scooter for heavy adults 400lbs and more
The Kaabo Wolf Warrior 11+ has a weight limit of 450 lbs and this makes it one of the top electric scooters for adults over 400lbs. One of the reasons we love the beauty is that it is slightly lighter than most e-scooters supporting a high weight limit as it does.
Kaabo Wolf Warrior 11+ Specs
| | |
| --- | --- |
| Weight Limit | 450 lbs |
| Top Speed | 50 mph |
| Acceleration | 0 to 15 mph in 1.9 sec |
| Top Range | 70 miles per charge (ECO Mode) |
| Motor Output | 5400 W |
| Foldability | Foldable |
| Charging ports | 2 |
| Charging time | 6 hours with a fast charger |
| Battery | 60V 35Ah LG/ Samsung |
| Weight | 101 lbs |
| Water resistance | IPX4 rating |
Why Kaabo Wolf Warrior 11+?
From its weight limit (above 400 lbs) to its range especially when riding in the ECO mode, this electric scooter doesn't disappoint. 
If you are looking for a beast that excels in range just like the affordably priced Emove Cruiser then the Wolf Warrior 11+ 400lb electric scooter is ideally what you need to ride. 
The rider has the option to opt for either off-road tires or street racing ones (both 11") and depending on the kinds of roads where one intends to pass, this is a sorted gray area.
By default, you will be under-utilizing the warrior if you are not passing her through murram road.
Next, the question about whether the Wolf Warrior 11+ electric scooter weight limit 400 lbs offers value for money is a trending one. Well, absolutely, the Warrior provides value for each buck spent, and especially for those who utilize her to the optimum.
How about the sturdiness? The Wolf Warrior 11+ comes in strong handlebars that offer a great grip. The handlebars' width is 24.6 inches which is exactly the same as the Wolf King.
What I also love about the Warrior 11 is that the frame is extremely sturdy and stem wobbles aren't a thing. The deck measures 20X9" and this means the rider has no cause for worry about slipping or rough rides!
What are the reasons to avoid the Wolf Warrior 11+?
One of the common issues reported by Kaabo Wolf Warrior 11 scooter for 400 pound person is the difficulty to fold this electric scooter. This is so because the folding mechanism sometimes doesn't allow secure locking.
Secondly, it's about the rear fender. Due to its closeness to the rear wheel, it happens sometimes that it can scrape as the rider bounces off bumps or other uneven road surfaces.
3) FLJ L1 Plus: The most bright 400 pound scooter
The FLJ L1 Plus is a top electric scooter for adults 400lbs. With the potential to carry adults weighing up to 180kg, there really shouldn't be anything holding you back from buying the L1 Plus.
Featuring dual 6000W motors, the FLJ L1 Plus electric scooter 400 lb capacity is capable of hitting a top speed of 53 miles per hour within no time.
Coming with either a 60V 40Ah or 60V 50 Ah Panasonic battery, you can expect to hit a top range of up to 90 miles depending on how heavy you are.
In fact, the L1 Plus scooter for adults 400 lbs is the upgraded version of the FLJ K6 electric scooter. The suspension is better and the overall ride quality is more enhanced.
You can buy any configured version of your FLJ L1 Plus electric scooter in the best way you wish. For example, you can buy the FLJ L1 Plus e-scooter that features a 40Ah 60V Battery or the 50Ah version. Besides, if you love riding while seated, you can purchase the seated version and for standing fanatics go for that which best suits you.
The L1 Plus electric scooter that holds 400 lbs comes with 13-inch tires to keep riding even in the toughest terrains possible. One of the crucial benefits of riding a big-wheel e-scooter is that the ground clearance is better and when coupled with the suspension, the shock absorption is better and as such, the riding is even more comfortable.
If you are interested in buying the L1 PLus and you are in the United States, it's important to note that the shipping may not be as swift as if it were the case with buying from the US. That's rightfully so because the seller ships from China.
4) FLJ SK3 PRO
The FLJ SK3 PRO is a high-end electric scooter 400 lbs that comes in different versions. You can choose among road/offroad tires, a seat or no seat, and 40/45Ah battery versions.
One cool thing with FLJ is that they do their level best to have different versions of the same scooter. Adults weighing 400 lbs deserve versatility and as such, it's great for them to be able to choose among what e-scooter best fits them.
Featuring a dual 7000W motor, the FLJ SK3 PRO seated electric scooter for heavy adults 400lbs can achieve a top speed of 62 mph/100km/h soon after taking off. For the 72V 45Ah battery version, the expected top range is 93 miles.
Harboring an array of LED lights, the SK3 PRO has a remote-controlled system to make switching on/off the lights is as seamless as it can get. The scooter has hydraulic brakes and for those who take their safety seriously, then you will be in a halt fast after engaging these brakes.
However, it's important to also note that, unlike the FLJ L1 Plus which features 13-inch tires, the SK3 PRO only comes in 11-inch for both the road and offroad versions. This scooter maybe or maybe not be the model you are looking into if tires form an integral part of your selection.
5) REALMAX ST-13: The fastest 400 lb capacity scooter
If you love high speeds, then the 72V 45Ah 8000W version of the REALMAX ST-13 aims to please you. This scooter hits a top speed of 68 miles per hour and a top range of 93 miles.
With the ability to carry heavy adults weighing 200 kg (440 lbs), you can absolutely never go wrong with the ST-13 scooter for adults 400 lbs. The REALMAX electric scooter 400 lb capacity features oil brakes at the front and the rear, which makes it one of the most unique scooters we have seen so far.
With a hill-climbing ability of 50 degrees, you can rest assured that chewing tough terrains isn't an impossibility. For the tires, you can choose between road or offroad. Among the different versions of the REALMAX ST-13 electric scooter for heavy adults 400lbs, it comes with only 11-inch tires. So, if you are looking for bigger tires, the ST-13 may not be perfect for you.
For the throttle, this REALMAX scooter for heavy adults 400 lbs model features a finger throttle, which means adjusting your speed upwards is easier to be done even by the novice rider. With this scooter, it has three-speed modes. With Gear 1, you can achieve a top speed of 25km/h and a top speed of 100km/hr with the TURBO mode. This is to let you know that regardless of your heavyweight, you can adjust the speed of your ride to your most comfortable.
What are the factors to consider before buying an electric scooter for adults 400 lbs?
Motors
It goes beyond saying that big dawgs like myself require high motor power output for any electric scooter that can hold 400 lbs to carry them conveniently.
Electric scooter motor power output varies with some electric scooters for large adults such as the Emove Touring having a nominal wattage of 500W while other beasts such as Yume X13 have 8000W motor output power.
As a rule of the thumb, ensure that you opt for an electric scooter with dual motors as it will give you better performance in terms of speed, range, and comfort, especially when off-roading.
Battery power
E-scooters that fit 400 pounds adults are already bulky and having to carry them around on your return journey doesn't sound right.
That said, you need to opt for a 400 pound scooter with sufficient battery power to take you the longest range in a single charge.
If your budget allows it, opt for electric scooters with a minimum of 60V, 20Ah batteries, and above. The range is better that way.
Braking System
Weak brakes can cause you to fall and in the worst-case scenario turn out to be fatal. You will absolutely need to opt for an electric scooter for heavy adults 400lbs that uses disc or drums brakes.
These types of brakes are mostly found in high-end models but are the best. After all, you need to ensure that while riding your 400lb electric scooter, everything matters your safety is on point.
Shock absorption and suspension
Could it be that you pass through uneven road surfaces, hilly places, or even sandy pathways? The electric scooter that holds 400 lbs you choose should be able to absorb the shock that comes with such passways.
Electric scooters with dual or more suspensions at the front and back should get the job done for you. After all, you don't have to subject your bums to bumpy rides while riding your 400 lb capacity scooter.
Additionally, the tires you select also play a critical role in the way you will absorb shock. For grassy surfaces, smaller tires such as 11" tend to excel. For real off-roading, you will need to go for 13"+ scooters such as those found in the Emove RoadRunner.
Construction and Lighting
Aluminum alloy is a sturdy yet lightweight material for manufacturing electric scooters. Besides, it doesn't rust easily as is the case with say iron.
For the case of lighting, you will need to opt for a device with huge headlights to enhance your visibility. Other lights such as turn signals, brake lights, and deck lights may also play a critical role in having other road users see you properly and thus enhancing your avoidance of causing an electric scooter accident.